ALTR has a serious hangover from last night's Politics with a Punch where yours truly witnessed firsthand ALTL's feminist/anti-establishment-loving dilemma in forming an opinion on Canal Street Madam Jeanette Maier. The Head Pelican girls went to the show not really knowing what to expect, but were surprised to find out that the Madam was on the evening's panel.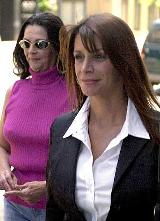 Here are some AM dailies to keep you occupied while I get over my hangover:

* Paris Hilton's lawyers save the heiress from having to shop for even more court-appropriate outfits. [EOnline]

* Texas executes its 400th. [WAFB] And apparently the EU thinks it can tell Texas what to do. [AfroSpear] As if Texas lawmakers really know what the EU is - "I thought Europe was a continent, not a country!"

* Exactly the kind of story those liberal NRA-haters don't want you to read about: 22 year-old woman kills intruder during a home invasion in Luling. [WGNO]

* When Congress goes back to school soon, the education debate will be heating up. An interesting tidbit with insight into ALTR's own fascination with education policy. Meanwhile thousands of New Orleans families will see their private school bills arrive in the mail soon.[Tallahassee Democrat]

* ALTR thinks ALTL will appreciate this Wonkette bit on a certain Craig's List want ad for oh-so-many ironic reasons. [Wonkette]

I'll post again after I finish my AM coffee and find out exactly what my crazy boss needs me to do today.